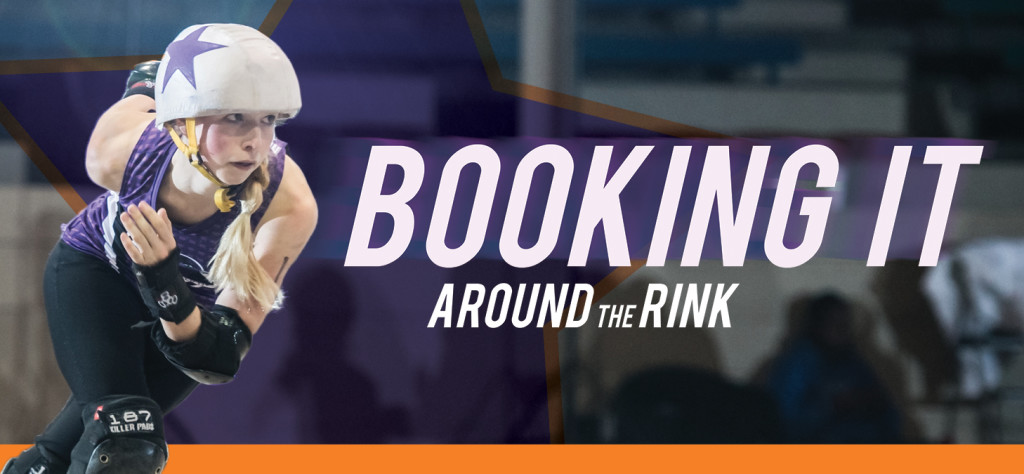 By Stephanie Robbins Boeding '99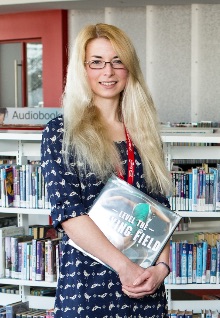 Seeing Sarah Voels '09 working among the shelves of the downtown Cedar Rapids Public Library, you could easily guess she was an English major at Wartburg. What you probably wouldn't guess, if you are the kind to judge a book by its cover, is that she also plays on a roller derby team.
Voels always has been athletic and even had a work-study stint in the Athletic Office. But as an English major, she yearned to be around books, so she took another work-study position in Vogel Library and opened a new chapter in her life.
She had just graduated and was working part time at the Cedar Falls Public Library when she first learned about a new roller derby team starting in the Cedar Valley. She went to the Push-Up Brawlers' first practice as a spectator.
By the second practice, she had a new set of gear and was skating.
"Everybody was just out there having fun, and I needed some of that. Everyone was strangers but so helpful with one another."
Soon after Voels joined the Brawlers in 2010 as her alter ego, the Dibrarian, she was accepted into the University of Pittsburgh's library science program.
"That was a sad day, leaving the team … there were a lot of care packages during that time," she said.
After an intense 11-month graduate program, Voels volunteered through AmeriCorps at a low-income school in the Pittsburgh area. As she was nearing the end of her term, her story returned her to where it began: Cedar Rapids. Her hometown was finally opening its new public library: the old one had been destroyed in the flood of 2008. As the river water overtook much of the city's downtown, she was living her own version of the story in Waverly, where she was interning at the Waverly Public Library as part of her coursework.
"When emergency services and City Hall were flooded out and moved into the (Waverly) library, that's where I really saw the library as a focal point of the community," she said. "That was absolutely a terrible experience for everyone, but a really important one in my career."
Today, Voels is a materials librarian, responsible for purchasing for the youth and young adult collections, which total nearly 90,000 items.
Being back in Cedar Rapids also meant being close to family and the Brawlers.
"It's more than a sports team, which it absolutely is, but it's very much a family," said Voels.
Though many still hold outdated beliefs about the sport—ones that include fishnets and short shorts—the new generation of derby women are focused on athleticism, with skaters dressed more modestly in jerseys and capris. Where the "angry women" derby perception still holds true is with the names. Other Brawlers names include After School Special, who's a teacher; Occupational Hazzard, an occupational therapist; and Exsie Cute, one of the coaches.
Voels' smaller physique gives her an advantage on the track. With the jammer's star on her helmet and the help of her teammates, Voels earns points by passing the four blockers on the opposing team.
"To know they have my back on and off the track has been really important and valuable in developing confidence and appreciation for what I can do if I set my mind to something," she said of her time on the track.
Wartburg gave her confidence, too, in pursuing her passion in her field.
"There are so many things you can do with an English degree. People truly don't realize it," Voels said. "That exposure to different stories and different story-telling techniques has helped to shape my thinking outside the box, to be a more creative yet empathetic problem-solver."
Two of her professors, Drs. Joyce Boss and Penni Pier, were particularly influential.
"They are very smart, savvy, intelligent, kind, and caring," Voels said. "They both challenged me to think and to think more broadly than I was used to."
Boss remembers Voels showed fierceness with whatever she did, particularly Japanese poetry.
"She became an absolute haiku master in World Literature class," said Boss. "So in that sense, Sarah's having become a roller derby star as well as a librarian comports absolutely with her character—a sublime combination of intellectual
and warrior sensibilities."