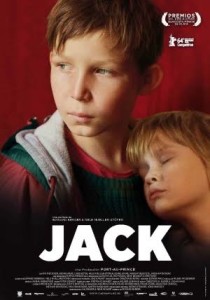 Wartburg College's German-language film series concludes Tuesday, Feb. 21, with a showing of the award-winning film "Jack."
The film, which will be screened with English subtitles, begins at 7:15 p.m. in Whitehouse Business Center Room 116. It is the final film that will be shown as part of the "Profiles in Courage" series. The screening is free and open to the public.
"Jack," which earned several select German film awards, follows the journey of a 10-year-old boy who, far more mature than his own mother, assumes the responsibility for establishing order in his family. His courageous decisions challenge us to reflect on our own lives and time.
Students will introduce the film and lead a discussion following the viewing.
The films in this year's series focused on individual responsibility to a personal ethical code and destinies shaped by the courage to uphold essential human values, said Yvonne Losch, assistant professor of German and the series organizer. The films' themes all tied into the 500th anniversary of the Reformation, which Wartburg is celebrating with numerous events throughout 2017.
This film contains scenes that may not be suitable for children. Additional information is available at
www.wartburg.edu/german-film/
.
The film series is sponsored by the Wartburg College German Institute and organized by the German and German studies programs.