Crossing a continent on two wheels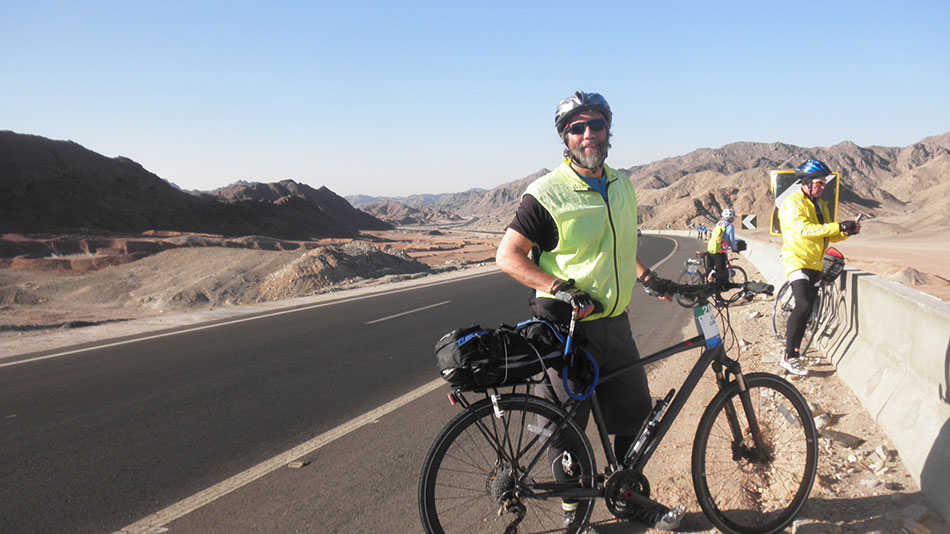 BY STEPHANIE ROBBINS BOEDING '99
MOST PEOPLE DON'T SAVE THE HARDEST CHALLENGE OF THEIR LIFE for age 60. But most people haven't traveled to all seven continents, completed a full Ironman at age 50, or spent a career as a doctor among several Native American cultures in the Indian Health Service. Approaching an age when many think of settling down, Mark Peterson '76 was looking for his most extreme adventure yet.
Peterson settled on the Tour d'Afrique, a 7,300-mile, four-month bike ride from Cairo to Cape Town with a group of 32 cyclists.
"It's the hardest thing I've ever done, mentally, physically, emotionally," Peterson said. "In four months I lost 40 pounds."
The schedule was grueling. "Every day you get up and ride for seven to eight hours, and then put up your tent," he said. The route itself was extreme for bicyclists. The up-and-down elevations along the way were the equivalent of 15 Mount Everests. In Sudan, the heat was 110 degrees as riders crossed the lower Sahara and Nubian deserts.
"There was no refrigeration, and getting a drink of water is like drinking saliva. It was hard to stay hydrated."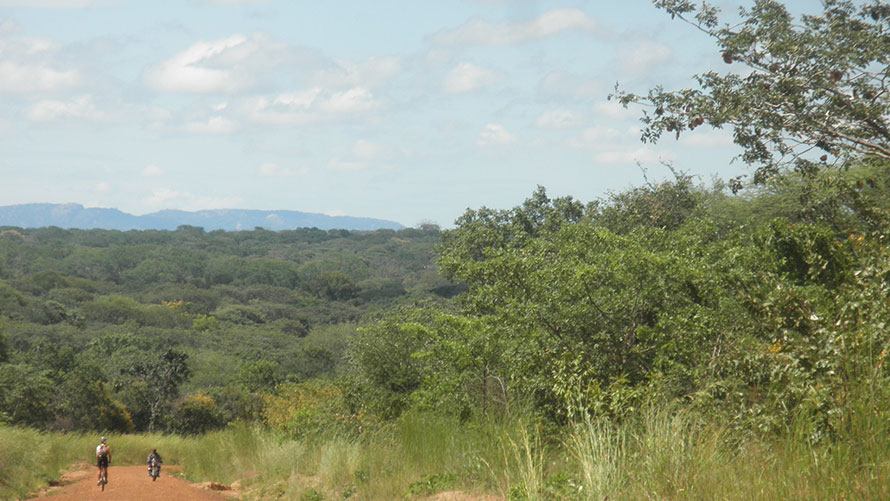 But the riders' greatest fear came from sharing the road with other travelers. Three in the group of 32 were injured by vehicles. Many other times, drivers missed the cyclists by inches. "The African drivers weren't used to seeing European-style bikes that were going 30 to 40 kilometers per hour and that wouldn't get off the road," he said. Opportunities to see African wildlife up close were plentiful in the second half of the route. African game even made an appearance on the riders' plates. "Some of the different cuisine was incredible," Peterson said. Restaurants in Nairobi and Namibia served ostrich, zebra, and wildebeest.
"I had some crocodile ribs at Victoria Falls, which were very tasty," he said.
The only doctor on the trip, Peterson helped his fellow riders during their lowest points. "At some point, everybody gets sick with a stomach bug," he said. Peterson also patched up cyclists who fell and tended to three who got sick with malaria.
Even with danger and disease so prevalent, Peterson said his adventure in Africa was worth the risks. "I knew I could take on challenges and succeed, and this confirmed that," he said. "I had worked with a lot of other cultures around the world. The first time you see the poverty in Africa, you realize what real poverty is like. Poverty in America is nothing compared to Africa."
Peterson witnessed poverty in America while serving as a doctor in the Indian Health Service.
"It's as close to the Third World as you're going to get in America," he said of his decades of work on Indian reservations. He went to medical school on a U.S. Public Health Service scholarship and, looking for a way to give back, started his career at a reservation in Montana.
"I grew up around the Midwest, a liberal Lutheran, feeling that service work was something I wanted to do. Wartburg had an atmosphere that reinforced that," Peterson said. "You realize more after you leave what a terrific education you're getting. In many ways you don't know how good you have it … small class sizes and individual attention, a great foundation for med school."
Peterson stayed with the Indian Health Service and eventually made his way to Alaska, where he retired in 2010, though he still works as a locum physician with the Tlingit.
"One thing that shows you've made a difference is when you're adopted into the tribe. I was adopted into the Tlingit tribe about 20 years ago with an unpronounceable name," he said.
Though he didn't travel abroad while at Wartburg, he did develop some motivating jealousy. "I'd come back after working all summer and had classmates who'd been backpacking across Europe or riding a motorcycle across America, and I was in the Midwest putting up hay and digging ditches." His interest was piqued, and in his adult years he's more than made up for it, traveling to 60 countries on seven continents.
He puts the Tour d'Afrique at the top of his travel list. "It was kind of a life-changing thing, which is weird when you're 60," Peterson said.
And even after 2015's grueling ride, Peterson's thirst for adventure hasn't been quenched.
"At the end of trip, I swore I'd never do anything else like that again. But now it's a year out, and the same group does a trip in Europe, from St. Petersburg to Lisbon, about 4,000 miles. It sounds like a little bit easier trip, so I may do it."
The Tour d'Afrique route covers more the 7,000 miles in four months, passing through 10 countries from Cairo to Cape Town.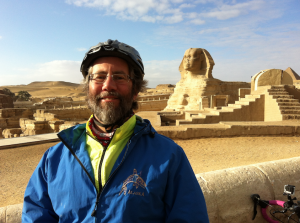 EGYPT: "We started with a little ceremony in front of the pyramids. Roads were decent as the route followed the Nile and passed famous sites, like Luxor."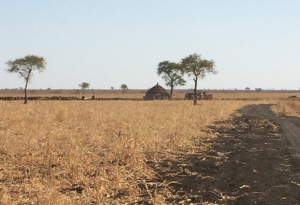 ETHIOPIA: "Ethiopia's about as poor of a place as there is, and here's these wealthy white Europeans riding through. Kids were throwing rocks and sticks and jumping in front of us. … I'm sure we looked like space men who'd landed."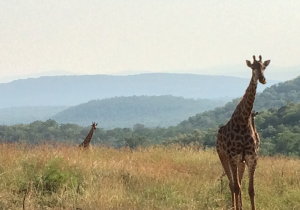 NORTHERN KENYA: "This was probably the most dangerous place along the trip, as the group traveled through areas with a lot of tribal animosities. We had armed guards from Cairo to Nairobi. You'd crawl out of your tent and see a couple guys with AK-47s patrolling. … There were about 100 kilometers in Kenya that were too risky, so we had to ride a bus."
NAIROBI: "Once the group got to Nairobi, the going was easier. We had access to more facilities, including occasional showers and more refrigeration. We lived for Coke stops. There'd be a little shop along the roadside, and you'd look for a power line to indicate refrigeration and cold drinks."
ZAMBEZI RIVER: "Probably the most fun thing I did on the trip was river rafting on the Zambezi River. It was 25 rapids in two hours, all class three to five. You flip in the water and there's crocodiles swimming around."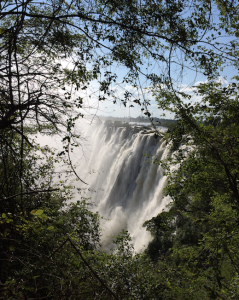 ZAMBIA: "Victoria Falls was gorgeous; the Serengeti, Mount Kilimanjaro, and Ngorongoro Crater, you have all these great wildlife parks."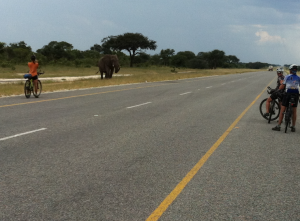 BOTSWANA: "We were along the Elephant Highway, and there are elephants alongside the road and zebras jumping in front of you."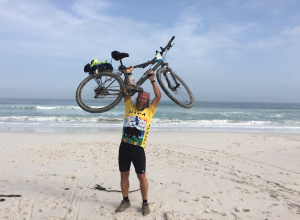 CAPETOWN: "South Africa is beautiful, with wonderful things to see and do, and it's fairly cheap. A five-star European experience at three-star prices. Great place to visit."