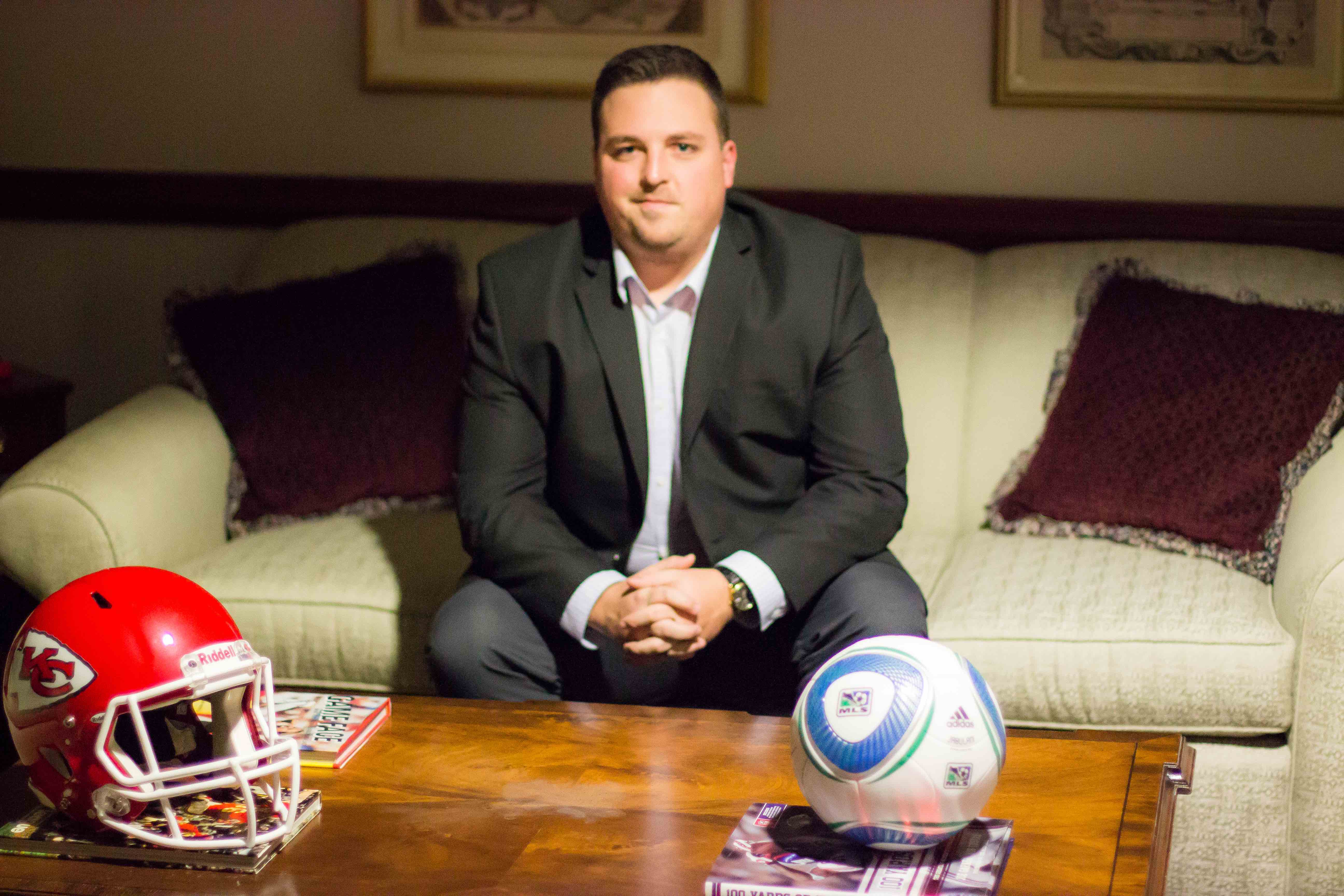 LAMAR HUNT, SON OF A TEXAS OIL MAGNATE, brought the Chiefs to Kansas City, helped launch Major League Soccer, and founded the American Football League. When the champions of the AFL and the rival National Football League began squaring off annually, he coined the phrase "Super Bowl."
Today, the late icon's billion-dollar empire is run by his son Clark, who is chairman and CEO. Just down the hall from Clark Hunt's office, Nathan Welsch '11 handles correspondence, research, and much more as the communications coordinator for Hunt Sports Group, which owns the Chiefs and the MLS team FC Dallas.
In essence, the 27-year-old is an assistant to the CEO. When Hunt identifies potential improvements to fans' gameday experience, he puts Welsch on them. When he makes public appearances, Welsch is there, too. And Welsch keeps an ear to the ground for business opportunities to put on Hunt's radar.
"It's a very unique job. You never know what's going to come up," he said.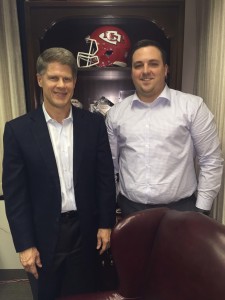 A LITTLE HELP FROM HIS FRIENDS
For a young professional, such high-stakes business experience is the stuff dreams are made of. What got Welsch there, though, wasn't a picture-perfect portfolio but a strong Wartburg connection.
Welsch majored in business and prepped for a career in athletics by working on Wartburg's sports information staff and interning as a recreational league coordinator through Wartburg West.
In early 2012, Welsch got the assist of a lifetime from his former sports information manager, Luke Shanno '09, now a corporate communications manager for the Chiefs.
"We had a good working relationship at Wartburg, and he said, 'Hey, I know Clark and the family are looking for somebody down in Dallas,'" Welsch said.
The lead brought long months of scattered communication, Welsch's first plane ride (for an interview with Hunt at the company's headquarters), and, at long last, an offer.
"I just kind of got up and left Iowa because I wasn't going to pass up the opportunity," Welsch said.
OUT OF THE FURNACE, INTO THE FIRE
Welsch's first four months at Hunt Sports Group included, in order: the resignation of the FC Dallas president, a murder-suicide committed by a Chiefs player that culminated outside the team's practice facility, and the firing of the Chiefs' head coach and general manager following a 2-14 season.
The turmoil sped the acclimation for Welsch, whose trial by fire included supporting the search for the front-office vacancies and the process that comes along with having the No. 1 overall pick in the NFL draft.
"There were some long nights those first few months putting together information, making sure we're on top of what everybody else is doing, trying to beat everyone else to the punch so we can get our guy," Welsch said. "It was really neat to see the inner workings of how that all goes down."
A UNIQUE BENEFITS PACKAGE
Welsch has taken a liking to Texas weather and the Dallas-Fort Worth entertainment scene, and a schedule that often extends beyond typical office hours is offset by some attractive perks: attending the 2015 College Football Playoff Championship and bumping shoulders with legendary athletes at the Doak Walker Award banquet, to name a few.
"The hours can be very random, so it's hard to keep a social life on track, but they do a good job honoring the time I need to do my own thing," Welsch said.
Of course, he has found that such immersive work has a way of permeating life outside the office.
"I went to all but two of the FC Dallas games this year for work," he said. "Before, I never watched soccer, never even paid attention to it. Now I'm watching U.S. National Team games whenever possible.
"And I was always a pretty big Green Bay Packers fan, so my dad gives me a hard time about cheering for the Chiefs now."