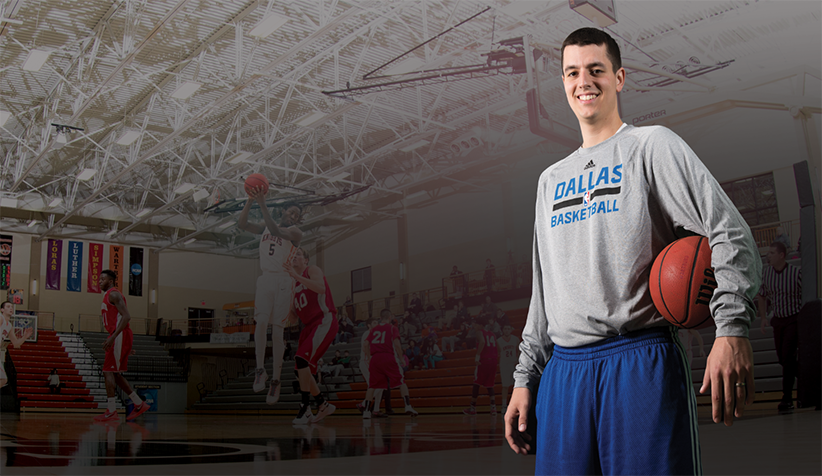 WHILE OTHER 10-YEAR-OLD BOYS were dreaming of the day they would make it big in the NBA, Jacob Oswald '10 was busy cultivating a lofty dream of his own. Instead of sweating it out on the court, he wanted to be the man on the sidelines calling all the shots.
A chance meeting with Mike Procopio, the player development coordinator for the Dallas Mavericks, during a basketball camp on the Wartburg campus turned out to be the connection he needed to break into the big leagues.
Last summer, Procopio took to Twitter seeking new candidates for the Mavs' player development internship program. Oswald landed a coveted interview during the NBA Summer League in Las Vegas.
Today, he splits time between Dallas and Waverly, where his wife, Kendra Christensen Oswald '08, still lives.
On the court, he facilitates individual and group skill development workouts, primarily working with young and newly acquired players.
"On a game day, we go in early in the morning, do some individual workouts with the younger guys, then move into the full team, and we just rebound and make sure things run smoothly," he said. "Then we come back in a few hours before the game for more individual, on-the-floor work to get used to the arena and lighting."
Off the court, he charts workouts and progress reports on the young players that are sent straight to the big boss: Mavericks owner and well-known investor Mark Cuban.
Though he tries to stay cool about his new surroundings, sometimes it's hard not to get caught up in the moment.
"The first real 'wow' moment would have been when Dirk (Nowitzki) walked in the practice gym at the start of training camp," Oswald said. "Seeing him come down the stairs, knowing that this is a guy who is probably the best international basketball player of all time. He's sixth in all-time scoring. He's probably going to be a first-time Hall of Fame nominee. It was a pretty cool moment. Outside of that, though, I try to remember the job that I am here to do and just do it to the best of my ability."
The length of the internship depends on how far the team goes in the postseason. While Oswald was given the option of returning next season, he hasn't made any final decisions. The Oswalds welcomed their first child in March, and the Dallas-Waverly commute doesn't allow him to spend as much time with his family.
"I'm open to a lot of different things. Player development is really important to me, but one of my biggest goals is mentoring people and helping them achieve their dreams," he said. "Whatever avenue I have to go down to help them do that, I'm happy to do."
Regardless of where he lands, he knows his time with the Mavericks will help him succeed.
"I think a lot of people think professional athletes have an advantage, as far as their approach to their game," he said. "Really, it's not a whole lot different. They go through the same issues as any normal person might and to see how the coaches pick those players up, to get the most out of them, has been, outside of the skill work, the the biggest thing for me."