Florence Hutson sent her son, David '65, to Wartburg in 1961. Little did she know she'd be following in his footsteps five years later.
Earnest Oppermann '38, dean of students, approached Florence about an on-campus opportunity as a residence hall housemother in 1966 after her husband was killed in a farming accident.
"I said I had no related experience, to which he replied that 'anyone who survived raising your son is qualified to be a housemother,'" Florence said. "So I took the job."
Her official title from 1966 to 1973 was head resident of Clinton Hall, but the only things the students ever called her were "Housemother" or "Mom." While her duties weren't officially listed, Florence said it was understood her job was to promote a pleasant and safe environment in which students could live and learn.
In the earlier years, that involved regular room checks "to prevent anything too dangerous or too messy from developing."
"I would leave notes for the worst offenders. The notes would become more threatening when things did not improve," she said. "It sometimes became a kind of competition among those students to see who was in the most trouble."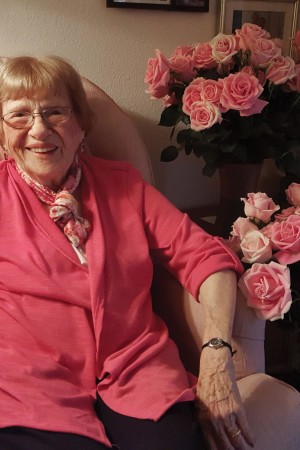 However, it was Florence's unofficial duty—simply being there for students—that was far more important to the Rev. Warren Freiheit '70.
"For me, as a freshman, having been raised on a farm, being away from home, she was a warm, smiling, caring person who was very important and very helpful to me," he said.
In addition to a kind smile, Florence also was willing to lend a hand.
"Occasionally there was a button to be sewed on or shirt to be pressed," she said, recalling she also baked cookies for the hall's annual Christmas parties. At one of those events, the residents presented her with a radio in a cherry wood cabinet.
That radio went in her apartment on One North, which was complete with a living room, dining room, kitchen, bedroom, bath, and office. When the college closed for the summer, Florence would return to Sibley, Ill., and spend time with relatives—a sometimes refreshing break from the antics of the students.
"There was the time the third-floor residents dammed up the bathroom door, creating a significant swimming pool, and the night students from off-campus houses engaged in a water fight with my boys to the point of water cascading down the stairwells," she recalled. "I responded in my most authoritarian voice by yelling, 'You outside guys get out immediately, and the rest of you get out the mops and clean it up, then get to your rooms.'
"I also remember the night large pieces of flaming debris went flying by my apartment window. Upon determining who had done it, I told him to go outside and put it out. What I didn't expect was that he would try to stomp it out with his bare feet."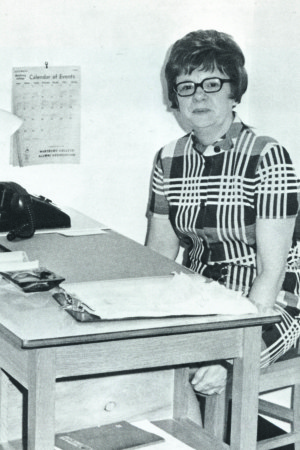 Though she brought an end to those shenanigans, Florence wasn't known as a strict housemother.
"There was a panty raid one time, and I was the bugler out the window," Freiheit said. "The incident was recognized at that time by the dean, but he didn't know who the bugler was."
And his housemother didn't give him away.
"She always just kind of shook her head and smiled," Freiheit said.
"Panty raids were pretty much an annual event. One year Dean Oppermann suggested I should attempt to intervene. When I asked what approach I should use to stop a group of young men, many of whom had had a few beers, from carrying out these raids, he had no answer," she said. "The boys were sometimes just feeling their oats."
Ron Shinn, a custodian known on campus as Sheriff Shinn, tried to deputize Florence one evening when she was out for a walk. He asked for her help in breaking up a noisy keg party in the Clinton Hall game room.
"I pointed out that he was the 'lawman' on campus," she said, adding that the party had disbanded by the time she returned to the hall.
The changes at Wartburg over her seven-year stint were largely reflective of broader society.
"Men's hair got longer, and they sported more facial hair. The curfew hours for women got later and, I think, actually ended completely by the time I left. Room checks were dropped and convocation attendance requirements were eased," she said.
Campus living had its perks, from concerts and plays to Homecoming celebrations and Outfly, but working with students was the most important benefit for Florence, who recently celebrated her 99th birthday.
"I fondly remember many individual relationships with students," she said. "It often felt like I had a few hundred sons instead of one. I have so many memories of my years in Clinton Hall. They were important and wonderful years in my life."
Her students, like Freiheit, still remember her warmly as well.
"I very much appreciated her," he said. "She was a kind face who was always there with a smile."