"I had no money. I had no one to give me money, but I was going to do it," Young said.
Fast-forward 16 years and Young, who still owns and rents multiple properties, was itching for a new adventure.
"I got online and started researching franchise options. I didn't want to do a restaurant. It had to be something fun and something I was interested in," she said.
Enter popcorn.
"I love popcorn and it wasn't very expensive to get started compared to other franchises. I started the process online that night," she said.
Though that franchise opportunity didn't pan out, another popped in at the perfect time. Within weeks she had a name, logo, building, and the training she needed to open Popcorn Heaven in Waterloo.
"If things are rolling and doors are opening, then you need to walk through them. If you don't that door will close and someone else will steal your opportunity," she said.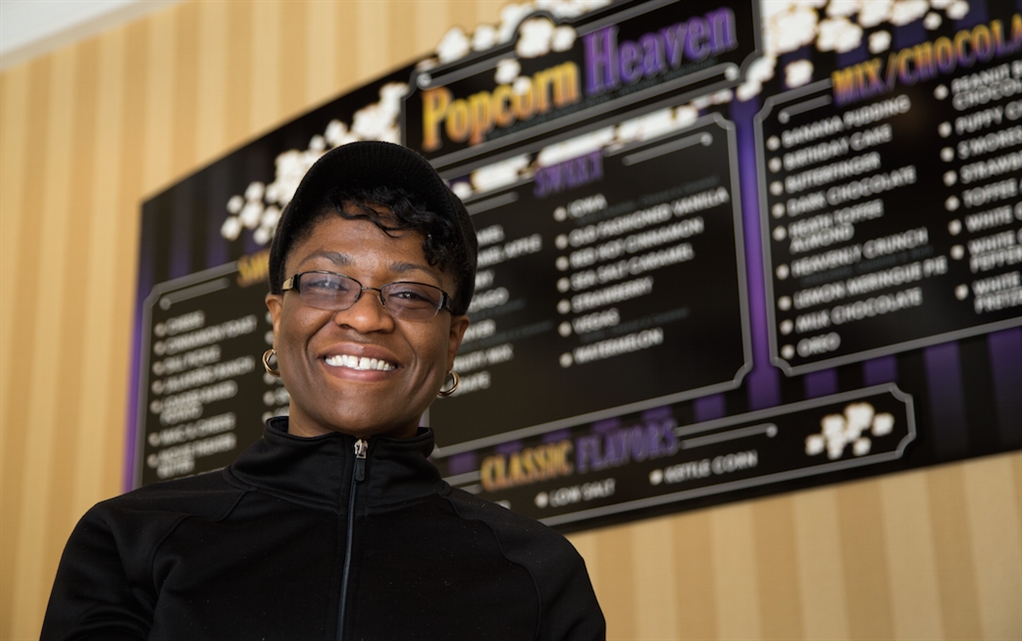 A VOICE FOR OTHERS
Despite a desire to stay behind the scenes, Young has repeatedly found herself at the forefront of national conversations regarding business and minorities. As operations manager at Alpha Express, her father's company, she got involved with several small business organizations, including the Iowa Citizen Action Network and Main Street Alliance. Her hope was to be a responsible employer by providing affordable health care for employees. Within months, she was asked to share her experiences with a larger audience.
"I didn't think my story was that unique, but there I was, testifying before a congressional committee about why it is important to have more regulations so that insurance companies would be more favorable to small businesses for health insurance."
In July 2013, Young was again contacted by the leadership of a small business organization. They wanted to hear her thoughts on pay equity. She shot off what she characterized as a long, rambling email, which ended with a disclaimer: You don't have to use this. Later that week Young was contacted by House Minority Leader Nancy Pelosi. Young's email had been forwarded to the lawmaker's office. Pelosi wanted Young in Washington, D.C., to speak as part of a delegation of small business owners. During the press conference on the steps of Capitol Hill, Young spoke about the need for pay equity for women and a fair minimum wage. In addition to her work in D.C., Young has shared her views on such topics on National Public Radio, and in the New York Times, Politico, Huffington Post, and Black Enterprise, among other publications.
MAKING A DIFFERENCE AT HOME
The Cedar Valley is benefiting from Young's servant leadership, too. When the Wartburg College Dance Marathon leadership team reached out seeking fundraising opportunities for their 12-hour event benefiting the University of Iowa Children's Hospital, Young was quick to help. Dancers have sold popcorn, raising thousands, and the Waterloo store served as a gathering spot for Dance Marathon families looking to connect before the March 21 event.
"Seven families participated in our November event at the store, sampling the popcorn and seeing how it was made," said Jenna Manders, Dance Marathon president. "At the end of the event, each kid got to make their own flavor. The awesome thing is Reshonda featured one of the kids' flavors every month leading up to the event with a portion of the proceeds coming back to us."
Manders '15, a business administration and sociology major, has found a personal benefit to the partnership as well.
"Learning from her, being in that entrepreneurial role her whole life, has been really inspiring to me. I want to make my own path, too."
When Young isn't busy with business, she volunteers with Love INC (In the Name of Christ), a network of local churches, volunteers, and community organizations that crosses denominational lines to help others in need. She also sits on the YWCA board, reviews grants for the Community Foundation of Northeast Iowa, and speaks to young people about money management. Soon she hopes to have more time to do what she loves— volunteering and mission work.
"When I was at Wartburg, there was a lot of talk about this '4 for 40 Plan,' so four years of school for 40 years at a good job," she said. "That plan wasn't aggressive enough for me. So, to fit where my mind was at, my plan was four years of college to retire at 40."
Young, who was honored as one of the Waterloo-Cedar Falls Courier's 20 Under 40 this year, turned 40 March 23. While she's not ready to retire completely, she's kicking off this new chapter with a mission trip to Haiti.
"I look at my life, and sure, I could sit around and complain about a million and one little things that aren't going my way, but that would be dumb," Young said. "I am just so blessed. As long as God keeps opening up doors, I am going to walk through them, totally trusting that He will take care of me and all of my craziness."
——————-
POPCORN HEAVEN
OWNER:
ReShonda Young '97
LOCATION:
403 Franklin Street, Waterloo
OPENED:
2013
FLAVORS THEN:
50
FLAVORS NOW:
65+
LICENSED LOCATIONS:
Coralville, West Des Moines, and North Carolina, with several more in the works
TOP SELLERS:
Iowa Mix (cheddar, white cheddar, caramel corn), caramel, sea salt caramel
OWNER'S CHOICE:
Dill pickle
CRAZIEST FLAVOR:
Beer and pizza
ON COMING UP WITH NEW COMBOS:
"It's usually late at night while I'm up doing orders. I'll see something and it's 'Oh my. Peanut butter popcorn. Or beer popcorn. It's kind of weird, but probably good. I think we will try it anyway.'"