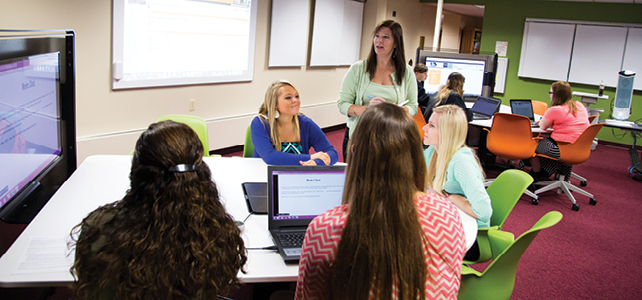 The architects of Vogel Library must have had a clear vision of the future. When the expanded and remodeled library opened in 1999, it featured extra outlets, network cords routed to empty spaces, and raised floors designed for wiring that didn't exist. That future is now. Thanks to a grant from the Margaret A. Cargill Foundation and other gifts received as part of the Transforming Tomorrow campaign, nearly $300,000 worth of technology is ensuring the library remains the central point of study as the nature of coursework shifts.
"If you look across academic libraries, as we pivot away from a focus on collections and a building full of objects and we pivot towards service, a big part of that is technology," said Curtis Brundy, Vogel Library director. "As the assignments change in the classes, and they're more reliant on media, the library's just a natural place to house some of that technology and support."
The grant came at an ideal time. Brundy was looking to make the library a center for learning technologies. Dr. Stephanie TeKippe, an assistant professor of education who also holds instructional technology responsibilities for the Academic Affairs Office, had seen students bounced around campus seeking curriculum-related technical support. After touring several college libraries, and with help from James Olson, Wartburg's college-sponsored programs administrator, they structured a grant proposal centered on making technology available to any student, for any class.
"It was all about being instructionally based, trying to get technology as a tool in the hands of the students," TeKippe said.
The funding, secured by Wartburg's Department of Education, is transforming the way students learn. It allowed the library to add a high-end, media-creation computer lab and launch a studentrun tech support service. The grant's crown jewels, though, are two cutting-edge library classrooms overhauled for this year. Their doorways feel like a portal to the future: four state-of-the-art, color-coded workstations frame an instructor station, each featuring a large screen attached to a round table. Students connect cords built into the table to laptops—the grant covered a cart of 25— and use a button on their cord to "throw" their computer's screen onto the station's. The instructor uses a touchpad to control whose screen displays on a giant videoboard on the wall. The touchpad also allows any screen to be thrown onto any of the station monitors. The classrooms also are equipped with portable whiteboards students use at their tables before hanging on the wall to display.
"It makes it more interactive," said Briana Miller '17, an elementary education major. "We can talk about our own projects and bring it up on each screen, so everyone can look at it as we're talking about it and collaborate."
Naturally, students have been quick to grasp the technology. "When you put this technology out, you don't know what level of support you're going to have to provide, but the students are not afraid to experiment," Brundy said. "You still need to support it, but they can figure it out in many cases on their own." Instructors, too, are adjusting on the fly. Instead of presenting for the duration of a class, the technology is designed for them to, in essence, help with "homework."
"It's a completely different way to teach, so you have to think of it backward," TeKippe said. "The lesson planning is a little bit different because students have to come to class with a base to share so they can work collaboratively."
To that end, the technology allows professors to record lectures featuring screen content and oral instruction, then share it with students between class sessions. TeKippe and fellow education professor Dr. Kelly Faga are carrying out a formal research study on the effects of this "active learning" instructional method in their classes. While the first-floor classroom is reserved for the education department, the second floor's classroom is available to the entire campus. Currently, its primary use is for librarians to give information literacy sessions, but any professor can book the room— once or for all term. On the same floor's common area, five more of the collaborative work tables and whiteboard stands have replaced carousels with individual nooks.
"We're seeing more multimedia assignments, where it's not so much writing a paper," Brundy said. "Professors want students working together on developing a PowerPoint or doing group presentations or making a movie."
Many other new library features cater to such projects. A bank of high-end Macs, PCs, software, and scanners provide horsepower previously found only in program-specific labs. A prep room allows students to record and review presentations. Tech-wise students in the Emerging Leaders in Technology Education program hold paid positions maintaining the new devices and showing students how to utilize them. The ELITE crew also runs the library's equipment check-out program, through which students can borrow laptops, tablet computers, digital cameras, video-recording devices, and an assortment of chargers. This popular new service put an additional 2,300 technology items in the hands of Wartburg students, faculty, and staff in 2014-15. The early returns are encouraging: The classrooms are a hit, the common-space work tables are bustling, and the check-out equipment is flying off the shelves.
"The students are just in their natural environment," TeKippe said. "It's not so much, 'Oh, this is so cool.' It's, 'Yeah, this is how it should be done.'"