Tamrat W. Gashaw
Assistant Professor of Economics
Office: WBC 103
(319) 352-8428
More about Tamrat W. Gashaw
B.S., 2000, Alemaya University (Ethiopia)
M.A., 2005, Addis Ababa University (Ethiopia)
M.A., 2008, Western Michigan University
Ph.D., 2012, Western Michigan University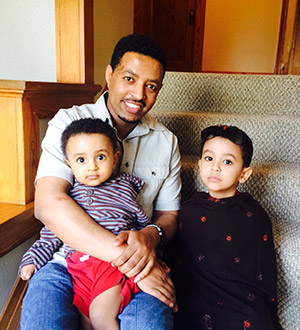 Professional History:
I have taught multiple Economic courses that include principles and advanced-level courses since 2005 in Ethiopia as well as in The United States. I also mentor and advise undergraduate students in their research activities and in choosing their courses or majors. Additionally, I have worked as a researcher with the Ethiopian Economics Association/Ethiopian Economic Policy Research Institute; as a market researcher with Ethiopian Export Promotion Agency and Ministry of Trade and Investment; and as a loan officer with Development Bank of Ethiopia.
Favorite Thing about Wartburg:
There are many attractive things about our college. To mention some:

For me one of these features is that the value given to undergraduate research unlike other teaching focused liberal arts colleges.
The other one is that due to the strength of our Business and Economics Programs, our students are frequently successful in winning different awards in business plan competitions. These include MIT business plan competition, Davis Project Competition, Clinton Global Initiative competitions and so on.
The other attractive feature of our college is the welcoming community both in and out of the college.
Research Interests:
International Trade and Finance
Monetary Economics
Applied Microeconomics
Applied Econometrics
Awards, Recognition, Committee Work:
Department Graduate Research and Creative Scholar Award, Western Michigan University, 2012

African Economic Research Consortium, Collaborative M.A. Program in Economics, Graduate Thesis Writing Grant, February 2005

African Economic Research Consortium, Collaborative M.A. Program in Economics, Scholarship to take four graduate level courses on
Environmental and Recourse Economics and Health Economics," African Economic Research Consortium, Kenya, 2005

Eshetu Chole's Memorial Best Master's Thesis Award, Ethiopian Economic Association, 2005
Ethiopian Government Scholarship, Alemaya University, Ethiopia, Fall 1995 to Spring 1999
Teaching:
financial management, investments, financial markets, macroeconomics, monetary economics, history of economic thought, social entrepreneurship, environmental economics, ecological economics

Inspirational Quote:
"I am fundamentally an optimist. Whether that comes from nature or nurture, I cannot say. Part of being optimistic is keeping one's head pointed toward the sun, one's feet moving forward. There were many dark moments when my faith in humanity was sorely tested, but I would not and could not give myself up to despair. That way lays defeat and death." (Nelson Mandela)
"If you can't fly then run, if you can't run then walk, if you can't walk then crawl, but whatever you do you have to keep moving forward." (Martin Luther King Jr.)
"The ideas of economists and political philosophers, both when they are right and when they are wrong, are more powerful than is commonly understood." (John Maynard Keynes)